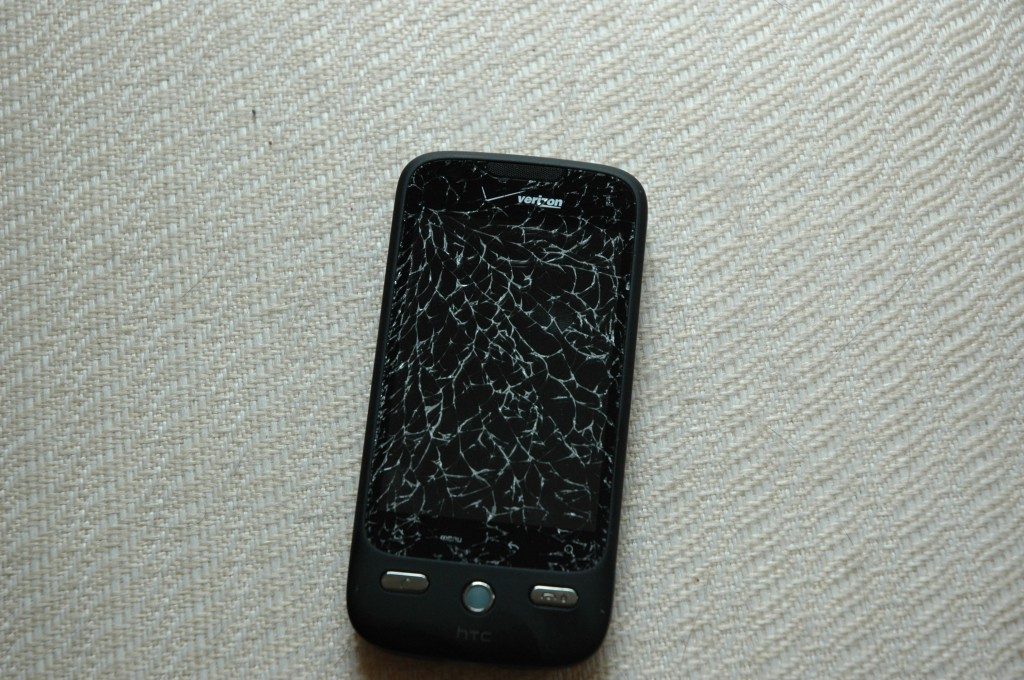 By the above picture, you can probably guess what happened there. That was Saturday. I was headed out to crash Trey's bachelor party and I decided, "What the hell? It's a week before the wedding, I'll just throw my phone on the concrete steps in front of the house and see what happens!" (Not really. It fell out of my purse.)
Surprisingly, I did not cry. This is a big deal for me.
I drove to a Verizon dealer near the house. They were closed. So, then I had to use the very broken phone to find an alternate Verizon location. That was exciting! Shards in the fingers are not so good . . .
So, it definitely still works, but is incredibly difficult to deal with. My replacement should be arriving on Tuesday (aka tomorrow)
In other, more better news!Wedding favors! Done!
Vows and Ceremony! Done!
Table Assignments! Done!
Under garments that work and fit! Done!
Attendant Gifts! Ordered!
I'm doing pretty good, I think, so far. I do have some people who need to get paid, still. I'm totally getting married and it's going to be awesome! At least that's what I keep telling myself after my terribly nonsensical nightmares that I have forgotten something very important.
And on a completely different vein, I switched web hosts for the most arbitrary reason possible. My previous web host doesn't support PHP 5.0. Because it didn't have the most recent technology, I couldn't use the Wordbook plugin. I am so capricious! The transition went pretty smoothly, I think.
The hardest part was getting the old Priory of the Storm guild forums migrated to the new server. That part was actually a little fun because I ended up having to run the SQL queries for the data manually. The only thing that didn't port correctly were other users' userpics. I really don't think that will terribly disappoint anyone, though. It is an archive, after all. I just wanted it to be functional and secure.
HOLY CRAP I'M GETTING MARRIED IN 5 DAYS!!!!!!!