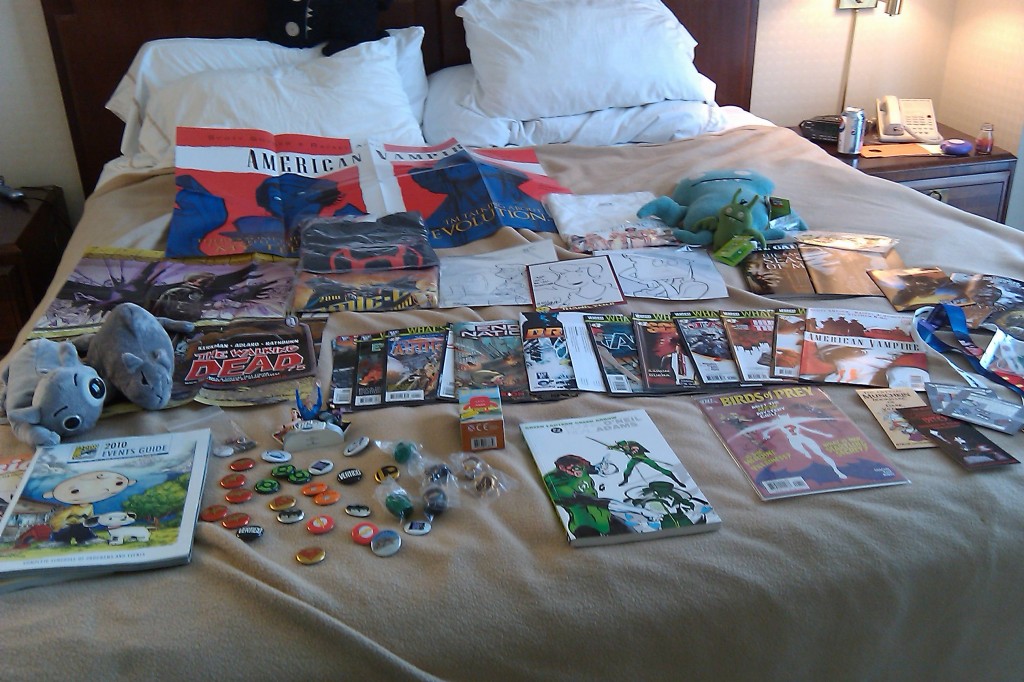 Theoretically, I should really do a post about different events and chunks of the honeymoon. Likelihood of that? Slim to none. I may surprise myself and do something about the different snippets of awesome that comprised my honeymoon in San Diego.
Thursday was a travel day and can be summed up with a headache from pre-flight beer and high altitudes with a dash of cramped airline seats on Continental. If you are tall, flying Continental may not be a good choice for you. Research, research, research. (Yes, I know I am short, I can fit on any plane, my husband, not so much. His comfort is a priority of mine considering he already hates to fly)
Friday was a con day for us. We met some really nice people who work for Hasbro on the walk from our hotel to the con. They gave us the 411 on some really neat things to find on the con floor, like the actual Bumblebee car next to the transformed Bumblebee in the Hasbro booth. We picked up the majority of our free stuff from con that morning (as can be seen in the pic above). It was also the day we stood in line to get Gail Simone's autograph on a comic and confess to her that we were at Comic-Con on our Honeymoon. She asked if we were nuts. We said we were.
Saturday was our second and last con day. We spent the day looking for some hard to find single issues and completing a few trade paperback collections. We were thwarted in finding Blackhawk #133, the first appearance of Lady Blackhawk, Zinda Blake. I was also unsuccessful linking up for The Guild panel after lunch, but got to see the DC Showcase with Trey instead. Thomas Jane spent the whole panel eating a sandwich and fries. He was a trip. I got horrible pictures of him, sadly. We ended our Saturday with the Fables panel, amiably hosted by Bill Willingham. It was amazing.
Sunday, we went to the World Famous San Diego Zoo. We spent all day there. Quite seriously. It was wonderful, as always. Trey had never been, so it was pretty important to me that he get to it this time around. Many aminals were seen and just as many photos were taken. They can be seen on my Picasa page.
Monday was a very slow day with checking out of the hotel and me losing my passport amongst all our crap and blaming its disappearance on the housekeeping staff. More than slightly embarrassed by that, but at least I found my passport. I really should have apologized all over myself to the housekeeping and hotel folks a ton more than I did. I will instead sing the praises of the Sheraton Suites at Symphony Hall in San Diego lots. It was a great hotel and a wondrous home base for our Comic-Con adventures. I highly recommend it.
That's really the highlights. It was a really good time. We had a lot of fun and were really sad that the con had to end. Super nerdy honeymoon FTW.