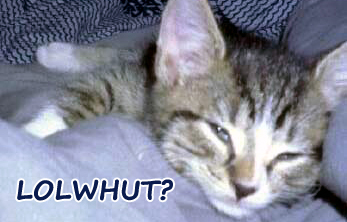 Wordpress Blogs are magnets for spam. That is why there are a zillion and one different spam catchy plugins. I use one such plugin and for good reason. I get some weirdo comment spam. As I was deleting the last batch, I thought, "I should totally post these for other peoples' enjoyment!" The spammers have delivered. New FUNNY comments will be added to the top of the heap as they come in.
Posted Thursday, January 19, 2012
From ashwywchth on Oh Spam, You Rascal
frldfwjdjpvthsjo, [url=http://www.qxxmmuasps.com]gkmjtfakiq[/url]
Come on now… you're not even TRYING.
Posted Wednesday June 16, 2010
From ovulation calculator on Wedding Invitation Design Experiments
You challenged me to try something new, and you have my thanks with a link from my place : )
Ovulation Calculator?!?
---
From morning sickness on Wedding Invitation Design Experiments
Awesome work. I always find very unique posts here on your Blog.
First Ovulation Calculator, now Morning Sickness?!?
---
From diagnosing dyslexia on Little Big Planet 2 Announced
found it on google. nice. ill come back to visit.
Given the name of the commentor, a rather well-spelled comment.  At the very least no letters significantly out of order. /golfclap
Posted Monday June 7, 2010
From ISO Downloads For SOny PSP on Little Big Planet 2 Announced
The music play on my PSP, i try to sync the music to the psp with windows meida player and it WONT WORK!! and if there is a song that will go on it says on the psp that there are no songs! but some of my memory stick is used up….im confused plz someone help
o.O
---
From locksmith on BioShock 2: Art Deco Zombie Atlantis
Hey, I just hopped over to your site via StumbleUpon. Not somthing I would normally read, but I liked your thoughts none the less. Thanks for making something worth reading.
Gee thanks for that back-handed compliment?
---
From singles vacation packages on BioShock 2: Art Deco Zombie Atlantis
What a fantastic article,and the blog theme is so Beautiful,could you tell me where can download this theme.
HoPE is the name of the theme and is free to download. I know you are spam, but a little link love shout out never hurt no one. Plus, the name of the commenter made me LOL.
---
From couples resorts on BioShock 2: Art Deco Zombie Atlantis
Heya, already been reading your blogging site for a long time. I manage a comparable blog page but I keep receiving a pile of spam comments, how can you maintain your blog page so clean?
Oh, the irony . . .
---
From Unlock iPhone on Comcast Update – FIXT!
successfuly figured.be grateful for you geohot with respect to whatever it takes. knowledge because of do not land
again, I say, "o.O"
Posted Wednesday May 26, 2010
From Top 100 Poems on Comcast Update – FIXT!
This is my first time i visit here. I found so many interesting stuff inside your blog particularly its discussion. From the tons of comments on your content articles, I guess I'm not the only one having all the enjoyment here! maintain up the great work.
The things making this comment spam are too numerous to list.
---
From Some Word Written in Thai on Comcast Update – FIXT!
fruits are good for health. thanks for divisionthis editorialto the whole wide web.
Indeed.
---
From Ovel Inad on BioShock 2: Art Deco Zombie Atlantis
Thank you for a very clear and helpful post. I am definitely a violator of many of these rules. I often find myself conflicted when writing a blog post because I see myself writing more than people want to read, but I feel that I have to do the subject matter justice by thoroughly covering it. I feel that by following some of these rules I end up cutting out important aspects to the discussion. I guess you have to find a balance.
What exactly are you trying to say? I think I might be offended!
---
From wow gold guide on Comcast Update – FIXT!
Curt, I love ya. I'm a video-game fanatic as well as a guy who appreciates honesty and loyalty. And sports stars who stay "real".
Err . . . the kitty above has a question for you.
---
From lady gaga telephone lyrics on Little Big Planet 2 Announced
Thanks for sharing, I found this article while googling for lyrics, interesting comments and good points made.
BWAHAHAHAHAHAHAHAHAHAAAAAAAA!!!!
---
From an online casino blog on BioShock 2: Art Deco Zombie Atlantis
You may participate in not intended to do so, but I about you obtain managed to express the state of intellect that a lottery of people are in. The brains of leaving much to be desired to expropriate, but not aware how or where, is something a piles of us are succeeding through.
I think he's right. Sometimes brains do leave much to be desired. . .
Posted Wednesday May 19, 2010
From Wholesale Polo Shirts onBioShock 2: Art Deco Zombie Atlantis
nice share, good article, very usefull for me…thanks
I mean, I'm happy I could help, Polo Shirt Guy, but somehow I don't think you're authentic
---
From ambicusia on BioShock 2: Art Deco Zombie Atlantis
Just want to say what a great blog you got here!
I've been around for quite a lot of time, but finally decided to show my appreciation of your work!

Thumbs up, and keep it going!

Cheers
Christian, Satellite Direct Tv
The best part about this one is the e-mail address mileycyrus[a bunch of numbers] at gmail dot com
---
From Jeromy Lavene on Comcast Update – FIXT!
Took me many times to review all the comments, but I unquestionably enjoyed the article. It proved to be Very neighbourly to me and I am unwavering to all the commenters here! It's forever nice when you can not however be informed, but also entertained! I'm unswerving you had festivity scribble literary works this article.
I don't even have the words . . .
---
From casino en ligne on Comcast Update – FIXT!
casino en ligne…

[…] Le gouvernement de l'Ohio joue des deux côtés de la clôture. […]…
I was not aware the Francophone community cared so much about the Ohio state government. I like the way he thinks and I'd like to subscribe to his newsletter . . . ok not really.